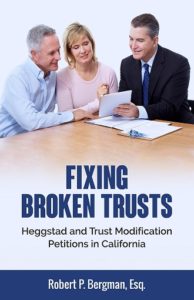 Hello. I'm California estate planning attorney Robert P. Bergman, Certified Specialist in Estate Planning, Trust and Probate Law.   I've been practicing in Santa Clara County since 1980, and my law practice is devoted exclusively to estate planning.  My main practice website is at www.lawbob.com. 
I created the "IRREVOCABLE TRUST DOCTOR" as a service to assist surviving spouses and families with modification of irrevocable trusts under California Probate Code Section 15403 or California Probate Code Section 15409.
Please take your time reading the various sections of this site, and then contact me if you believe that my services could help you and your family deal with an outdated or incorrectly drafted irrevocable trust.
I provide similar services for

ex

parte

Heggstad petitions under Probate Section 850, to transfer property of an incapacitated or deceased trustor into their trust ownership without Conservatorship or Probate.  Visit "Heggstad Help" for more information about these services.
Other contact information
Phone: 408-247-0444

Fax: 408-416-4591

Address

Law Offices of Robert P. Bergman
3535 Ross Avenue, Ste. 308
San Jose, CA 95124